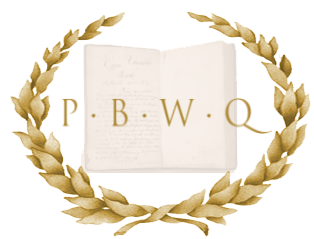 It's hard to believe this time is upon us again. I have no idea where all the years are slipping away to, but I don't like it. Especially in light of the severe lack of progress I've demonstrated over the last two decades.
For the uninitiated, PBWQ is my version of NaNoWriMo. But instead of the National Novel Writing Month, it's the Personal Book Writing Quarter. The idea is that you spend the month of October doing research and planning. You spend November writing (conveniently overlapping NaNoWriMo). You then spend December revising.
In short, it's exactly what you should be doing before, during, and after NaNoWriMo anyway. I'm just formalizing it and turning it into a logo.
My personal relationship with my own personal book writing quarter has been spotty at best. The two of you who read this blog know that. However, it feels different this year. Things are different for me: in many areas of my life. And I can't stop thinking about the backstory of this whole Trilogy idea. In short, I'm fired up.
And believe me, that's saying a lot.
« Previous Post . . . Next Post »